Meet Vivian Lee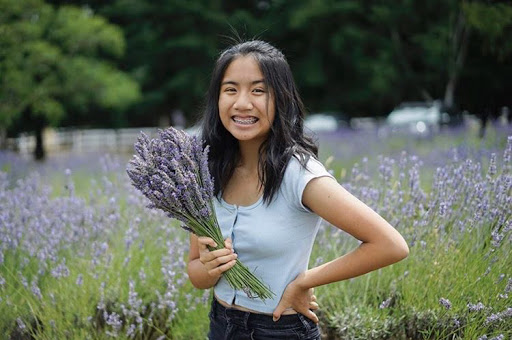 At Mountainside High School, many students feel compelled to participate in as many school activities as possible, whether it's to get the most out of their high school experience, to meet new people, or simply to gain material for college applications. Many people would tell you to not wait to get involved. However, some of us may feel intimidated or think that we have nothing to contribute to these amazing activities.
Vivian Lee, a freshman at Mountainside, has already engulfed herself in our school. From a young age, Vivian noticed the people around her who seemed to get the most out of school and decided she wanted to do the same. This led her straight to the leadership pathway. "Seeing what others could do with the right goals and mindset helped me figure out what I wanted to do too." In 7th grade, Vivian was quick to jump into the leadership program offered at Highland Park Middle School and to participate in the "Builders Club," her school's equivalent of Key Club. Her dedication continued through 8th grade. 
The work Vivian had put into leadership did not stop there. She immediately involved herself in the leadership program at Mountainside, being apart of leadership 2 as a freshman. She continues to impress others with her contributions to Key Club and being one of the two communication directors for the Mountainside Environmental Club. Her open-mindedness has allowed her to take part in many exciting opportunities. Friends of Vivian would describe her as "creative and kind-hearted" and there's no doubt that these traits play a large part in her role as a leader. 
Vivian is forever grateful for her choice in participating in Mountainside's leadership program. She's noticed "a ton of new opportunities that almost bring a new meaning to being a leader." Her first year of high school has only been enhanced from the opportunities she's had to meet new people and make a difference in our community. 
It's not always easy to take the step to get involved. However, Vivian is flying high, and taking every opportunity she can to be as influential as possible. Juggling clubs, leadership and being ahead in academics doesn't seem easy, but Vivian makes it clear it's not impossible. While she is striving to take many advanced classes throughout her high school years, she's not sure where her education will lead her. She knows when the time comes "I'll have counselors and people to help make the right decision for me." 
Vivian is just one of many people who will tell you that getting involved in your school's community can completely change your outlook on life. Everyone has something that they could contribute whether it be to a club, sport, or leadership program. It's never too late to jump in, no matter your grade level. Don't wait, you could be involving yourself in our school's community right now. Take action sooner rather than later and encourage others to do the same.