Giving Trees & Adopt a Family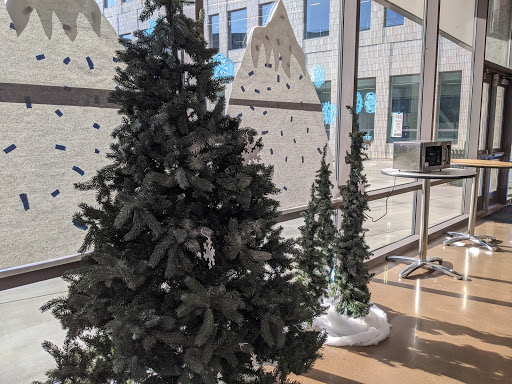 The Giving Tree and Adopt a Family are activities we participate in every year around the holidays. Both traditions of Mountainside are designed to give back to less fortunate families to help them have happy holidays. A member of the leadership committee in charge of these events said, "This event was able to create a better holiday for children in the community."  Their top priority and main goal is to bring joy each holiday season. 
What are they? 
The Giving Tree is a tree in the Commons of our school with many white name tags hanging on the branches. Any student can grab one of the tags off the tree. Written on each tag has a child's name and the gift they asked for. After choosing the tag, students will then buy the gift the child wants and bring it back to school by December 13th. This is a great opportunity to help children in our school district pay forward some of the holiday joy you feel every year.
Adopt-A-Family is an event that happens in most advisory classes. Every class receives a cardboard box with the holiday wishes of other students in the Beaverton School district. Advisory teachers encourage each student in the class to participate and ensure the children have plenty of gifts and happiness during the holidays. In order to receive a gift from Adopt a Family, you have to be 18 years old or younger and be taught in the district. Students have until December 11th to deliver gifts to their advisory classes. 
Why have these events? 
Mountainside is working hard to enforce a positive community among the students and staff.  The staff and Leadership persist to think of ideas and events we can have around the school to build that community. Students play an important role in maintaining a positive atmosphere and environment by participating in these events. 
Another reason our school supports the Giving Tree and Adopt-A-Family is the happiness giving bring to the students participating. It brings the joy of giving to others and builds empathy between us. These days many people have problems expressing empathy and emotion for others. Providing presents for peers gives chances to build affirmative traits and a better outlook amongst Mountianside's students.
In the future? 
As we enter the end of these events, students may want to know how to help in the future if they didn't get the chance this time. The Giving Tree and Adopt a Family happen every year at Mountainside, so keep an eye out for winter 2020. There are many other service events to participate in, which can be found in advisory announcements or on the tv slides. The smallest amount you can give is always enough.