How the Cookie Crumbls
Progress Ridge is a frequent destination for many students, and a new shop in the area called Crumbl Cookie has created buzz in the school since its opening.  While some have been talking about pricing, others are excited by the ever-changing flavors. 
"I certainly have heard the name floating around the school," said Evan Ho (Junior). "It was mostly when the shop opened, and the hype around the store brought it to life. The only other thing I can remember hearing is that they're overpriced, which I can attest to."
Others agree with the idea that they are overpriced, but didn't seem as perturbed as Ho.
"They're a little pricey," Anneliese Bishop-Perdue (Senior) responded after hearing the four dollar price tag for the cookies. "They're pretty good cookies, so I can see maybe going with friends as something fun to do. It wouldn't be something you'd do a lot is what I'd say."
Unfortunately for friends visiting, the shop has no indoor seating, but they do have outdoor seating fitting up to four people a table. J.P. Perfili notes it is rather breezy during the colder months, but it is available. Crumbl does also deliver which could be good for anyone wanting to relax at home and eat some cookies without baking or going out. Even with this special service, people still find things are not exactly perfect with the shop.
"It's around $4 for a singular cookie," said Ho. "For it you get a cookie that's terribly sweet as well as a fairly average-sized cookie." He continued by saying, "For pure cookie enthusiasts it might be something worth looking into, but for the average Joe or Jane it isn't worth the money."
After talking with the franchise owner, J.P. Perfili, it became apparent even with this pricing, students are not shy about going to Crumbl Cookie and partaking in the sweets.
"We have lots of customers, both students and parents, from Mountainside," said Perfili. "We'd love for more people to stop by."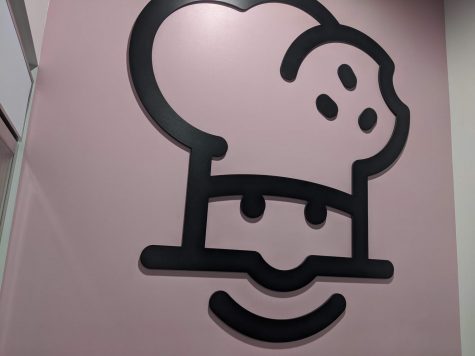 If you do stop by and fall in love with one of the uniquely flavored cookies, keep in mind the menu changes every week. Their only staple cookies are the chocolate chip and iced sugar.
"Personally my favorite cookie they had produced was the waffle cookie, which was made to look like an Eggo waffle," Ho told me. "Quite the sweet cookie, and very heavy…the cookie that I've mentioned is most likely not available." 
Even those skeptical of the shop's downsides have praise for other aspects the shop brings to the table over any other shop.
"In comparison to other shops, Crumbl guarantees fresh cookies…" said Ho. "Fresh hot cookies are always amazing."
If you needed any more opinions to sway you one way or the other, Bishop-Perdue gave us a final review. "Honestly, [the cookies] are good. I'd give them a 7 or 8 out of 10," she said. "They're thick cookies, they're big cookies, which is nice."
In the end, is the cookie worth it? With the specialized flavors and the freshness taken into account, it's up for you to decide. You may fall in love with a cookie that's gone within the week, or perhaps you'll get addicted to the ever-changing list of sweets.