Biden enjoys highest polling lead yet
October 13, 2020
Following Trump's COVID diagnosis, the presidential debate, and vice-presidential debate, the Biden/Harris ticket is enjoying the highest polling lead of the season. With RealClearPolitics having the pair up 10.0 points, and FiveThirtyEight having them up 10.6 points.
Throughout the duration of this election, Biden has held a constant lead over Trump nationally, with the numbers coming out currently only working to affirm that lead. With the largely polarizing election coming up, the electorate has irrefutably shifted left compared to Hillary Clinton's numbers in 2016. There are a number of added pressures that did not exist in the 2016 election, such as the largest issue affecting voters; the COVID-19 pandemic. Following is a list of states who have shifted from the GOP column to toss-up states or favoring the Democratic Party.
(A reminder before the polling gets underway. All of these polls are subject to change as the days go. The best way to insure (or go against) these polls is to vote. Go to vote.org to check your registration or get registered)
Presidential:
Arizona
The state hosting the 2008 Republican Nominee for president, John McCain, has now shifted in favor of Joe Biden, after going to Trump by 3.5 points in the 2016 election. Arizona has voted solidly for the Republican Party, and hasn't voted blue since Bill Clinton's re-election bid in 1996. Biden has led in the state since March, and is currently at a 3.8 point lead, according to FiveThirtyEight.
Florida
Florida has long been hailed as a typical swing state. After voting for Obama in his 2012 re-election bid, Florida voted for Flordian resident Donald Trump by a 1.2 point margin in 2016. The voting populace of Florida has shifted in favor of the democrats in recent polling, with Biden up by a margin of 4.6 points, and Trump not leading on average since April.
Georgia
Similar to Arizona, Georgia has not voted blue since the 1996 election of Bill Clinton, however this election is shaping up to be one of the closest states in the electorate. Georgia went to Trump by a 5.1 point margin in 2016, however recent polls have flip-flopped the favorability between Trump and Biden, with Biden up currently by 0.6 points. 
Iowa
Iowa voted blue in 2008 and 2012, only to dramatically shift in favor of the GOP in 2016, with Trump winning the state by an astounding 9.4 points. This state is another to watch, as it has been trading off between the Trump campaign and the Biden campaign, with Biden currently leading the Iowa polls by 1.1 point.
Michigan
The largest state in the rust belt shocked America after going blue in the 2016 election by a slim 0.3 points (just 9,000 votes). This state has only affirmed the lead of the democratic ticket in the rust belt, with Biden currently ahead by a whopping 8.0 points in the state (likely due to the 2008 automotive bailout under the Obama/Biden presidency)
North Carolina
After going blue in 2008, North Carolina went red in the 2012 and 2016 elections. North Carolina went red in 2016 by a margin of 3.6 points, but this state has turned into another toss-up state, with Biden currently leading in the polls by 3.1 points. Many experts say that this state tends to lean left because of the large black voting base (which overwhelmingly votes Democrat) in the state, making up 22.1% of the population.
Ohio
Ohio is defined as one of the most accurate Bellwether states in the union. A Bellwether state is a state that votes with the winner of the election, as Ohio has done with only 2 misses since 1896 (the elections of 1944 and 1960). As the term implies, Trump won Ohio by a margin of 8.1 points. Biden currently leads this race by a slim 0.3 points.
Pennsylvania
The homestate of vice president Biden went to Trump by a margin of 0.7 points in 2016. This was following his promise at a revitalization of coal mining, and factory production jobs, which has plagued the state in unemployment in recent decades. This state is also the birthplace of Joe Biden, and he currently leads here by an easy 7.2 points.
Texas (yes, that Texas)
Texas, the ruby red state since the 1976 election, made headlines when the Biden/Harris ticket lead in the state narrowly in mid-August, after going to Donald Trump by 9.0 points in 2016. The polling numbers currently have Trump ahead by 1.4 points (although the 2016 polling numbers over-predicted republican support by 5.0 points, the largest miscalculation in the 2016 polls). Amongst large allegations of voter suppression rooting from the current governor Gregg Abbot, this state is likely to vote red in this election, but definitely one to watch in the 2024 election.
Wisconsin
The final rust belt state went to Donald Trump by 0.7 points (23,000 votes) in the 2016 election, following a democratic streak since 1986. This state currently has Biden ahead by 7.7 points on average, and is likely to vote democrat in this election.
Current map applying these averages (Key: Safe: 15+, Likely: 14.9-5.0, Leans: 4.9-1.1, Tilts: 1.0-0)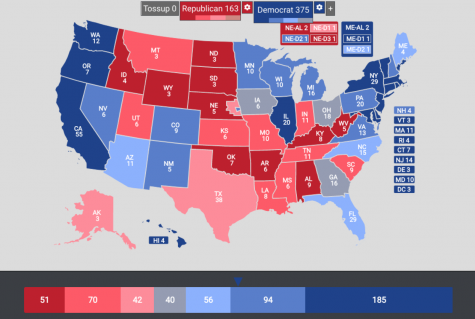 Senate:
Majority switch of the senate occurred back in 2018, when the house changed from majority republican to majority democrat, and the senate switched from majority democrat to majority republican. With the nomination hearing of Judge Amy Coney Barret, the senate is at it's most important point in the election, and has arguably more close races than the presidential electorate. 
In the state of a party tie in the senate, the vice president will vote on the proceedings.
Iowa
With a close presidential race, Iowa also has a close senate race between incumbent Joni Ernst (R) against opposition candidate Theresa Greenfield (D). Currently, Theresa Greenfield leads in the polls by an average of 4.8 points.
Maine
Although Maine is a traditionally democratic state, in 2014 they elected Republican Susan Collins, who is up for re-election against candidate Sara Gideon. This follows Susan Collins recent dismissal of a supreme court candidate, stating that she would vote against a nomination this close to an election. The current spread is in favor of Sara Gideon by 3.7 points.
North Carolina
North Carolina is home to incumbent republican senator Thom Tillis, who is a close ally to Trump, catching COVID in a similar time-frame as the president. Thom Tillis is up against Cal Cunningham, a democrat. The current polling has Cal Cunningham up by 5.1 points.
Georgia
Georgia is currently voting upon both senators, something unique to Georgia this election cycle. Of these elections, the non-special has incumbent republican senator David Perude up against challenger Jon Ossoff (a democrat). Currently, Perdue is leading polling by 2.8 points.
Montana
Although leaning right on the presidential election, Montana is home to a close senate race, with one democratic senator, Jon Tester, already in office since 2006. This race consists of incumbent republican senator Steve Daines and former governor Steve Bullock (following a failed presidential bid). The current race has Daines ahead by 2.7 points.
South Carolina
South Carolina senator Lindsey Graham is popular in the news for denying president Obama a vote on supreme court justice contender Merrick Garland. Afterwards, he stated, that he would not vote for a supreme court replacement "if a republican is in office and the replacement occurs while the primary race has already begun", which he echoed again in 2018. Now, after coming out in support of the nomination of Amy Coney Barrett, his opposition candidate, democrat Jaime Harrison, has been making leeway in this race. The current polling numbers declare a toss-up between the two.
Kansas
Kansas does not have an incumbent senator present, and with that, has an all-new race between republican Roger Marshall and democrat Barbara Bollier. Although polling is limited, the current polls have Marshall ahead by 2.0 points.
Arizona
Shifting on the presidential and senate, Arizonans have shown a shift leftward during this election. Arizona is unique in that the current incumbent, republican Martha McSally, was never elected into office, and only came into office following the death of late-senator John McCain. Martha McSally lost a senate race in Arizona in 2018 to democrat Kyrsten Sinema, and is now up against democrat Captain Mark Kelly. Mark Kelly is a unique candidate as well, he is a former astronaut for NASA, and husband to Gabby Giffords, a former Arizona representative. Giffords resigned from office following a traumatic brain injury from a failed assassination attempt in 2011. Currently, Kelly is up by 6.5 points in the senate.
Colorado
In Colorado, incumbent republican senator Cory Gardner is against former presidential candidate, democrat John Hickenlooper. Currently, Hickenlooper is leading in the polls by around 9 points.
Alabama
Alabama has another unique scenario, with incumbent democrat senator Doug Jones against former football coach Tommy Tuberville, a republican. In this traditional republican stater, Jones was elected to senate in a special election in 2017 amidst allegations of sexual misconduct with a minor from his opponent, republican Roy Moore. Currently, Tuberville is polling ahead at an average of 10 points.
Georgia (Special)
Following a resignation from former-senator Johnny Iackson, now-senator Kelly Loeffler, a republican, was signed in by the governor at the time. This election will fill out the remaining 2 years, and will be up for re-election in the 2022 midterms. Currently, there is a 6-way race, as no candidate won the primary elections from either party. The two largest canidates are democrat reverend Raphael Warnock and current senator Kelly Loeffler. Current polls have republicans ahead by 7 points. 
Current map applying these averages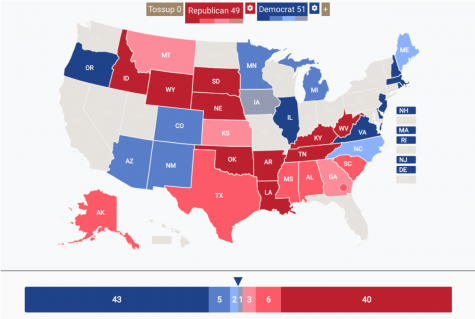 Sources:
"2020 – Latest Polls." RealClearPolitics, www.realclearpolitics.com/epolls/latest_polls/.
"At Risk of Losing Texas, Republicans Scheme to Limit Democratic Votes." The Economist, The Economist Newspaper, www.economist.com/united-states/2020/10/10/at-risk-of-losing-texas-republicans-scheme-to-limit-democratic-votes.
Biskupic, Joan. "Amy Coney Barrett, a Proven Conservative with a Compelling Personal Story." CNN, Cable News Network, 27 Sept. 2020, www.cnn.com/2020/09/21/politics/amy-coney-barrett-supreme-court/index.html.
"Congresswoman Gabrielle Giffords Injured in Shooting Rampage." History.com, A&E Television Networks, 5 Dec. 2011, www.history.com/this-day-in-history/congresswoman-gabrielle-giffords-injured-in-shooting-rampage.
DataDhrumil. "National President: General Election Polls." FiveThirtyEight, 11 Oct. 2020, projects.fivethirtyeight.com/polls/president-general/national/.
McCrummen, Stephanie, et al. "Woman Says Roy Moore Initiated Sexual Encounter When She Was 14, He Was 32." The Washington Post, WP Company, 9 Nov. 2017, www.washingtonpost.com/investigations/woman-says-roy-moore-initiated-sexual-encounter-when-she-was-14-he-was-32/2017/11/09/1f495878-c293-11e7-afe9-4f60b5a6c4a0_story.html.
"Meet Mark ⋆ Mark Kelly for Senate." Mark Kelly for Senate, markkelly.com/marks-bio/.
Mistler, Steve. "Susan Collins Faces Tough Senate Reelection Campaign." NPR, NPR, 11 Oct. 2020, www.npr.org/2020/10/11/922756211/susan-collins-faces-tough-senate-reelection-campaign.
Murphy, Brian. "Sen. Thom Tillis Announces He Has Coronavirus; NC Challenger Cunningham Tests Negative." Newsobserver, Raleigh News & Observer, www.newsobserver.com/news/politics-government/article246188995.html.
NateSilver538. "2020 Senate Election Forecast." FiveThirtyEight, 10 Oct. 2020, projects.fivethirtyeight.com/2020-election-forecast/senate/.
Politi, Daniel. "Lindsey Graham Goes Back on His Word, Vows to Vote for Ginsburg Replacement Before Election." Slate Magazine, Slate, 19 Sept. 2020, slate.com/news-and-politics/2020/09/lindsey-graham-backtracks-vote-ginsburg-seat-trump.html.
"Presidential Election of 1996." 270toWin.Com, www.270towin.com/1996_Election/.
"Presidential Election of 2008." 270toWin.Com, www.270towin.com/2008_Election/.
"Presidential Election of 2012." 270toWin.Com, www.270towin.com/2012_Election/.
"Presidential Election Results: Donald J. Trump Wins." The New York Times, The New York Times, www.nytimes.com/elections/2016/results/president.
Tankersley, Jim. "In the Race for Factory Jobs Under Trump, the Midwest Isn't Winning." The New York Times, The New York Times, 13 June 2019, www.nytimes.com/2019/06/13/business/economy/trump-manufacturing-jobs.html.
Taylor, Jessica. "Republican Martha McSally Picked To Fill Senate Seat Formerly Held By John McCain." NPR, NPR, 18 Dec. 2018, www.npr.org/2018/12/18/677766098/republican-martha-mcsally-picked-to-fill-senate-seat-formerly-held-by-john-mccai.
"U.S. Census Bureau QuickFacts: North Carolina." Census Bureau QuickFacts, www.census.gov/quickfacts/NC.
"United States Senate Special Election in Georgia, 2020." Ballotpedia, ballotpedia.org/United_States_Senate_special_election_in_Georgia,_2020.
"YAPms – USA 2020 Senate." Yapms.com, www.yapms.com/app/?t=USA_2020_senate.