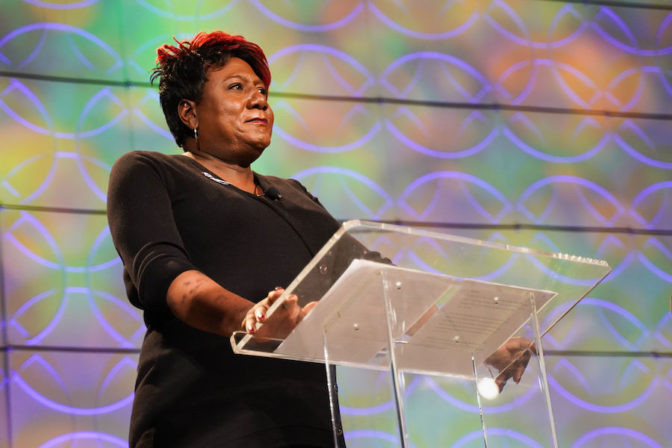 The Legacy of Monica Roberts
El Legado de Monica Roberts
November 10, 2020
After her untimely death, Monica Roberts is commemorated for her dedication to the black trans community. In her blog, TransGriot, she honors and advocates for black trans women and victims of hate crimes by publicly shedding light on their hardships.
At the time and years after Roberts created her blog, coverage of transgender issues by mainstream media was still sparse (and/or) disrespectful. It wasn't uncommon for the media to misgender or deadname, which is the use of someone's birth or former name of a transgender or nonbinary person without consent, which can be extremely dissmissive and rude towards the person´s identity.
As stated in an article by GLAAD  in 2015, a black trans woman, Lamia, was killed in a shooting in her hometown in Virginia. After the inaccurate and ill-mannered press coverage which followed her death, Roberts decided to speak out in a blog post:
"As you probably guessed when it comes to media people covering the murders of our sisters, it came with another heaping helping of disrespect. She was not only misgendered in the Scott Daugherty Virginian-Pilot article, her past arrest record was injected into the story." wrote Roberts several days after Lamia's death on TransGriot. 
Unfortunately, the disrespect highlighted in the situation of Lamia's death was not uncommon towards the trans community, which was influential towards Roberts's decision to create TransGriot. 
Along with her blog, Roberts was also known for her diligent work in helping identify trans murder victims to prevent misgendering; which often makes it harder to solve the crime. 
"I got tired of them being disrespected in death," stated Roberts in an interview with the Daily Beast. 
Before the era of Roberts´s blog and advocacy began, she worked for Continental Airlines as a desk agent, and began transitioning in the early 1990´s. 
After receiving harassment from her coworkers and supervisors, Roberts moved to Louisville, Ky, where she held multiple jobs before returning to Houston and beginning her career as a journalist, blogger, and trans advocate. 
"The ferocity, authenticity and passion she brought to our movement was unmatched and her legacy will live on for decades to come," stated Ricardo Martinez the CEO of statewide LGBTQ group Equality Texas in an NBC News article. He described Roberts as a, "fearless, unapologetic Black trans woman who fought courageously for everyone's human rights."
As a result of Monica Roberts' hard work and dedication, TransGriot received the GLAAD Media Award in 2018 and the Susan J Hyde Award for Longevity in the Movement at Creating Change in 2019. She also wrote for numerous other news sources including the Huffington Post and The Advocate. 
On October 1st, Roberts made a blog post about her NFL picks, which ended up being her last TransGriot publication, as she unexpectedly passed away 4 days later at age 58 in her hometown in Texas. The Harris County Institute of Forensic Sciences later reported her death was caused by blood clots found in her lungs, and suffered from heart disease as an underlying condition. She will be greatly missed by her friends, family, supporters, and members of the black trans community. 
"We're often asked to strip ourselves of our trans identity," explained Willis, a black trans activist and a friend of Monica Roberts. "What was pioneering about her approach was she was unabashedly trans in her writing and her reporting. There are just so many people who have benefited from her work and her career who may not even know it yet."
Leave a Comment
Tras su muerte prematura, Monica Roberts se conmemora por su dedicación a la comunidad transgenera.
En su blog, TransGriot, Monica honraba y defendía a mujeres trans negras y víctimas de crímenes odiosos publicando sobre dificultades trans. Griot (Gre-ooh) es una palabra de África occidental que significa narradora, y Monica era justo eso – contaba las historias de la comunidad trans de manera digna y respetuosa. 
Al tiempo y años antes que Roberts creó su blog, en 2006, cobertura de cuestiones de las personas transgéneras por mainstream media todavia seguía escasa e irrespetuosa. En esa manera, no era incomún que la media discribiera a personas trans a traves de misgenedring, y deadnaming, que es el uso del nombre y pronombres anteriores de la transición de una persona trans o sin binario.
Como se indica en este artículo escrito por GLAAD, en el 2015, una mujer trans negra, Lamia, fue asesinada en un tiroteo en su pueblo natal en Virginia.
Siguiendo la cobertura irrespetuosa y maleducada de los reportes en Virginia, Roberts decidió hablar sobre el tema en su blog:
"Y como ya probablemente adivinaste cuando se trata de gente en la media, cubriendo los asesinatos de nuestras hermanas, venía con una abundancia de falta de respeto. No solo usaron su nombre anterior en el artículo escrito por Scott Daugherty en Virginian-Pilot, sino también inyectaron su record criminal pasado en la historia." escribió Roberts varios días después de la muerte de Lamia en TransGriot.
Desafortunadamente, el irrespeto destacado en la situación de la muerte de Lamia era bastante comun hacia la comunidad trans. Esta injusticia fue el factor principal que ultimadamente le inspiró a Roberts a iniciar su blog.
Ademas de TransGriot, Roberts también era conocida por su trabajo diligente en ayudar a identificar a personas transgeneras asesinadas a fin de evitar misgendering, lo que a menudo dificulta la resolución del crimen. 
"Me canse de que ellos estén irrespetados en la muerte, declaró Roberts en una entrevista con Daily Beast.
Pero antes de comenzar su blog y abogacía, Robert's era un agente en Continental Airlines, y empezó su transición a principios de los 1990.
Después de recibir discriminacion de sus compañeros de trabajo y supervisores, Roberts se mudo a Louisville, Ky, donde mantuvo cuatro trabajos, antes de regresar a Houston y empezar su carrera como periodista y defensora transgenera. 
Roberts también era una gran fanática de los deportes y consecuentemente escribía sobre ligas deportivas. Ya que la temporada de fútbol americano está a punto de comenzar, en el primero de Octubre, Roberts escribió sobre sus selecciones de la NFL, su última publicación en TransGriot. Fallecio el quinto de octubre de 2020, a la edad de 58 años en su pueblo natal en Texas.   
Su mamá, Mable Roberts, confirmó su muerte y declaró que Monica se quejó de dolor de pecho el día antes de su muerte. También dijo que un examinador médico encontró coágulos de sangre en sus pulmones. 
Después de enterarse de esta sombria noticia, muchos de la comunidad LGBTQ hablaron sobre lo que el legado de Monica Roberts había logrado. 
"La ferocidad, autenticidad, y pasión que aportó a nuestro movimiento, no fue igualada y su legado vivirá durante las próximas décadas." declaró Ricardo Martinez, el director ejecutivo del grupo de igualdad LGBTQ Tejano en un artículo por NBC News.
"Cuando pierdes a alguien así el dolor es inconmensurable. ¿Cómo reemplazas eso? ¿Cómo reemplazas tu luchadora número uno?" dijo Kendra Walker de Pride Houston.
Alphonso David, el presidente de la campaña de derechos humanos dijo, "Ella deja un legado fuerte y vital, uno en el que todas las personas y aliados LGBTQ deben trabajar para honrar y avanzar. Descansa en el poder, Monica, y gracias."
En una entrevista con Out Magazine, Monica también reconoció el impacto de su legado diciendo: "No puedo decirte cuántas veces me he encontrado con algún trans millenial que me dice que mi blog le inspiró a hacer esto o le inspiró a hacer aquello. Al menos cinco personas me han dicho que leer las publicaciones de mi blog es lo que les impide suicidarse. Así que cada vez que me siento y empiezo a escribir una publicacion, lo tengo en cuenta: que lo que estoy escribiendo puede inspirar a alguien que no quiere perseverar." 
Roberts tuvo la intención de ser la narradora afroamericana de la comunidad transgenera. Y con todo al respeto, ella logró nada menos que eso. Siempre seguiriá siendo un símbolo de la importancia de la abogacía. ¡Descansa en poder, TransGriot!
Leave a Comment