Behind the Scenes of Paws Strips
What is Paws Strips?
I made Paws Strips back on Aug. 29th, 2013. Even though it took me until Feb. 14th, 2019 to get my comics into a newspaper, I still consider the beginning to be 2013. Paws Strips is the story of a 9-year-old boy named Jett and a Dog named Paws doing all sorts of stuff. Anything ranging from going for a walk to building a time machine (get ready for that one.) The point of the comic is just to make funny stories that pop in my head, but I plan to start branching out to more than just comics. There may be something big in the works for Jett and Paws
Finding Inspiration
Whenever I want to make a new comic, I usually look at the world around me, truth is stranger than fiction after all. Finding inspiration from the world is a bit difficult recently being quarantined in my house. But that just means I have to get more creative. Such as making comics on things I WISH we could do instead of what we CAN do. I also have 7 years worth of old comic stories in desperate need of redrawing
Drawing
For drawing the Comics I use an iPad with the drawing app "Infinite Painter" to draw the comics. The app works on phones and iPads. Almost all of the characters are inspired by real people in my life. I also practice drawing outside of comics, I sometimes experiment with working on different styles of drawing. And trust me, my art has gotten WAY better than what it was from practice.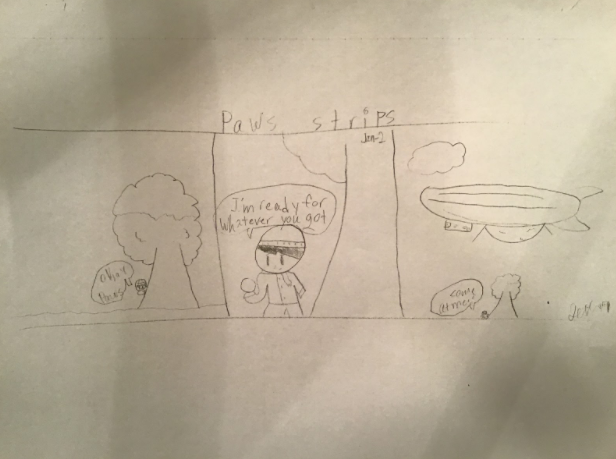 I also commonly work with headphones and music. If you want to work on your art some more and improve, there are some great youtube channels for it such as xabio arts and "Let's draw with BeeJayDeL"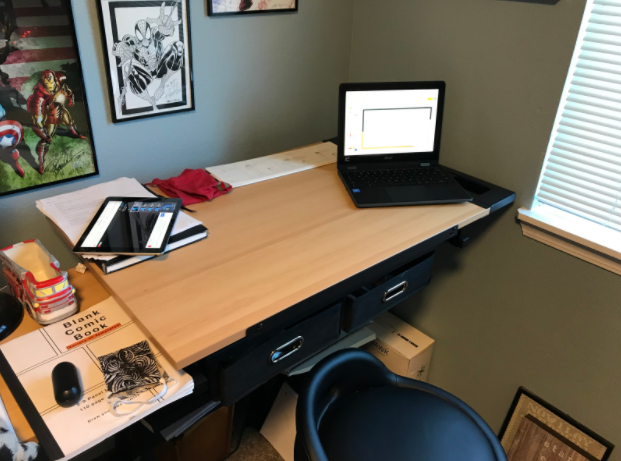 Why I do Comics
I do comics because they are fun, they let me make a world without all of the insanity of this one and allow me to make stories I enjoy. I do it because I love working on Paws Strips.
Where I plan to take them
My plan for Paws Strips is to keep making them for the school newspaper, but eventually take them to other papers. I also plan to start a little animated series with Jett and Paws, but this will take a while because I need to learn animation tips and tricks. I also have several comic books and graphic novels with them in the works as well. The first one is planned to be published next year. Wherever the road ahead leads, I plan to take Paws Strips the whole way.
Leave a Comment
Your donation will support the student journalists of Mountainside High School. Your contribution will allow us to purchase equipment and cover our annual website hosting costs.
About the Contributor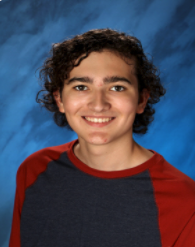 Jett Gomez, Human Interest Reporter
Jett Gomez is a sophomore at Mountainside High who is working in the Human Interest department. He joined journalism so he can share his own comics to...