The Generational Voice of Protest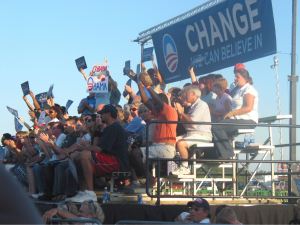 Music is one of the most popular ways prominent figures can express their agenda. This has become even more true in today's tense political climate, with a heated division between the two parties.
With the growth of the Black Lives Matter movement, many iconic songs become synonymous with the gathering and marching of protest groups. Among these, the songs that became most popular were "Freedom" by Beyoncé featuring Kendrick Lamar, "Alright" by Kendrick Lamar, "Black Rage" by Lauryn Hill, and "Be Free" by J Cole.
"Freedom", a song considered by many to be Beyoncé's most politically charged song of her hit album "Lemonade", talks about the struggle for freedom in the Black community, specifically women. Beyonce has also shown her clear support of the BLM movement through her posts, speeches, and songs. It's no surprise her songs have become synonymous at protests.
"Black Rage" by Lauryn Hill uses a well known speech pattern recognizable from "My Favorite Things" from Sound of Music. This creates a visceral juxtaposition as one is to comfort while the other outlines injustices. "Black Rage" covers the unfair situations Black people face, which bring fear, and in turn, fuel their rage at their own mistreatment. 
Among the songs that were played, there were also many chants that were shouted through the streets BLM protests marched through. For example, 'Hey hey! Ho ho! These racist cops have got to go!' In addition to the group chants, there were many call and responses chants.
Call: Hands up!
Response: DON'T SHOOT!
Call: No Justice!
Response: NO PEACE!
All: No Racist Police!
Call: Whose streets?
Response: OUR STREETS!
Call: What do we want?
Response: JUSTICE!
Call: When do we want it?
Response: NOW!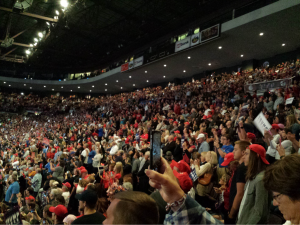 These simple call and response chants created an environment of unity for those who may not be as familiar with a complex song or chant. It also combined the voices of all that were marching, ensuring that the protesters would be heard.
As for the right-wing side of the spectrum, there are certainly songs that are specially selected to emulate the old school American spirit.
Current President Donald Trump often plays classic patriotic anthems during his rallies. The lyrics of many of these songs create an emotionally charged atmosphere for his supporters. For example, rock band Queen's famous song "We are the Champions" was used by Trump at a 2016 rally as he approached the crowd.
As a matter of fact, Queen's publishing team Sony/ATV publicly announced on Twitter that they did not give President Trump permission to use the band's music: 
"Sony/ATV Music Publishing has never been asked by Mr. Trump, the Trump campaign or the Trump Organization for permission to use 'We Are the Champions' by Queen. On behalf of the band, we are frustrated by the repeated unauthorized use of the song after a previous request to desist, which has obviously been ignored by Mr. Trump and his campaign," read the statement.
In fact, many well-known artists have demonstrated frustration with the use of their music at Trump rallies. This is because the use of their work at such a public gathering indirectly sends the message that the artist supports Trump's agenda.
R&B group The O'Jays had previously given Trump permission to use their song "For The Love of Money" during his days as a reality TV show star on "The Apprentice". He then went on to use their song "Love Train" at one of his rallies. However, once he began that rise to power as a political figure, band member Eddie Levert personally called Trump to revoke that permission.
"Listen, man, I don't believe in what you're doing. I'm not with you. I don't want you to use my voice. I'm not condoning what you're doing", he recounted his words to Trump. "I wish him the best, but I don't think he's the man to run our country," Levert said in an interview with Billboard.
However, some artists feel honored to be affiliated with the right-wing side of politics.
Trump has played "God Bless the USA" by Lee Greenwood multiple times when he is preparing to take the stage at his rallies. Greenwood has vocalized that he approves of Trump using his song and has said "Trump is a patriot".
Brooks and Dunn's song "Only in America" has been played by the last 3 presidents at political events. "Very flattering to know our song has crossed parties and potentially inspires all Americans," Member Kix Brooks told Rolling Stone.
Liberal rallies as well as conservative rallies continue to use the power of song as a way to demonstrate their devotion to their personal beliefs and values.
Leave a Comment
Your donation will support the student journalists of Mountainside High School. Your contribution will allow us to purchase equipment and cover our annual website hosting costs.