Senior Boy's Basketball Reflection
#0 Connor McClean: Basketball is and was and possibly will ever be everything to Connor McClean. He's the youngest in his family of four and followed in their line of foot-steps with sports, basketball being one of them. "It was one of the ways for my family to connect with each other."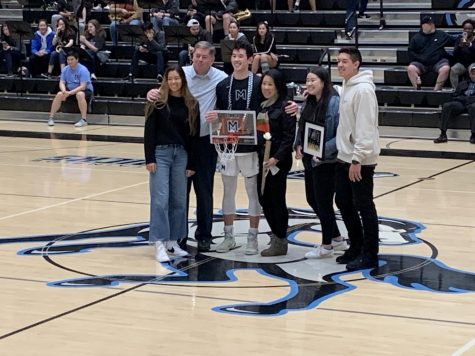 "The most important thing is to try and inspire people so that they can be great in whatever they do." This is one of Kobe Bryants' most famous quotes, and Kobe helped inspire a young Connor McClean to play basketball. Connor would later become a phenomenal player, for two high schools and help lead them to the playoffs 
As Connor got older he suited up for Southridge for three years rocking the #5, #42 and the #14 jersey. "[My time there] was great! I loved the coaching staff and everyone there was super helpful, they helped me grow as a player as well as a person, but unfortunately, we had to part ways. But I think Southridge really helped me who I became today." McClean would then trade his crimson and gold #14 for a blue and silver #0.
His time here has been a "dream, 20-4 in 6-A Oregon is amazing, we're a team that won 6 games last year, and we turned that around into twenty." The Mavs only won one metro league game last year and secured nine wins from metro league competition.
His favorite moment, however, comes from Stuff the Stables, "Seeing all my peers come out and the place being packed and the whole place going crazy with the atmosphere being insane, there was nothing like it."
#4 Nzube Mekkam: From a young age, Nzube Mekkam used basketball to better himself and connect with his three older brothers, it was something Nzube could put effort and work into and he could see the results. Basketball has meant a lot to Makkam growing up. Mekkam started out playing for the YMCA when he was six years old.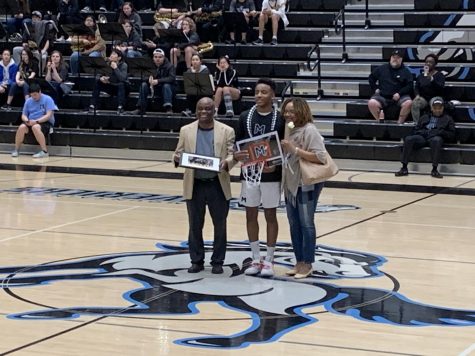 Then he would enter the Southridge youth program. That would later transition to AAU basketball and playing at the high school level. "It was a good year, it was really fun, starting high school, building better relationships with kids who I knew from middle school, and grew up with in elementary school as well." 
Mounatinside's unique position would put Mekkam into a bind on where to go. "It was awkward not having an older class here." Nzube would later admit. At first Nzube would have rather stayed at Southridge than come to Mountainside. He was really glad that he came to Mountainside however. 
Nzube's favorite experience would be on social media, where a video of his would reach 1.7 million views on House of Highlights.  
#10 Grayson Rowell: Growing up basketball was 365 days a year and every year.Rowell began hooping in third grade and it's been apart of his life ever since. He began his journey at Southridge and spent two years there. With the spotlight moment coming from his Sophomore year. He had great coaches and grew a lot as a player and as a person. Then we would play in the JV games but swung for the Varsity team once the playoffs were upon him, and making it to the Chiles Center.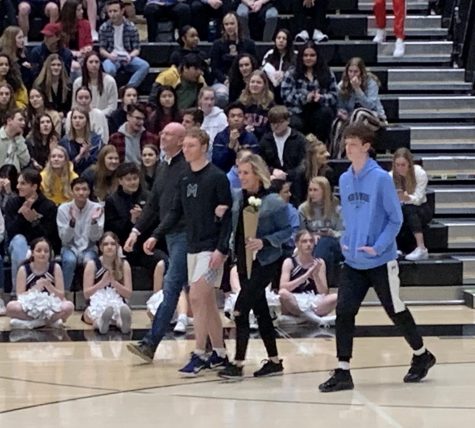 Rowell hopes to return to the Chiles Center later this year. Then the transition from Southridge to Mountainside was easy on and off the court. The transition from one court to the next wasn't difficult for him because basketball has been a staple in his life. Then for Rowell "There's probably not one single [favorite] memory, but like our regular season was 20-4 and that's the best regular season that I've ever been apart of Freshman, JV or Varsity."
#11 Mitch Rose: Ball has always been fun for Mitch Rose, all of his friends are on this team, all of his friends that he has grown up with are on this team, but it's always been something to do for fun. Growing up for Rose he watched Jimmer Fredette, but now he watches Devin Booker because they are fun players to watch, they are highlight players.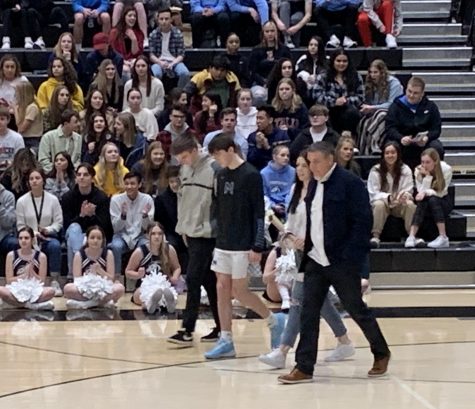 He, as well as almost everyone else, started their high school careers playing for Southridge. "Every level you take is just another step up. You can just feel it going from 8th grade to Freshman year, it's still the same guys but everyone is just way better." When he came to Mountainside from Southridge it was a big risk to take. You didn't know who was staying or who was transferring. 
As soon as he got here they knew they could form something special. However, there was a point in time where we didn't have seniors. "Not having seniors just made a big difference, it was such a big jump going from JV to Varsity. We were dogs out there ya know. We wanted it, people didn't expect us to get it, it was a fun year for sure." Then everyone's favorite game of the year was the Stuff Stables. "It was just so much fun, any little thing you did people went crazy. It was so loud and everything. There's just no way you couldn't smile at that." 
#21 Isaiah Madison: Growing up, basketball wasn't everything for Isaiah Madison, he did it for fun when he was younger and his three older brothers played ball as well. Basketball was just something his parents signed him up for. Madison looked up to Allen Iverson, Paul George, and Brandon Roy; and his game resembles those two play styles in a way. It was the summer going into his Sophomore year, when he really honed in on his craft.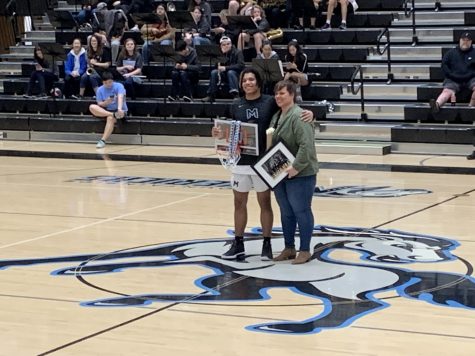 At Southridge, it was still just a thing he did, "I wasn't as passionate and I really wasn't striving to be as good as I can be." Then he would then take his Sophomore and Junior year off high school hoops. Isaiah played for Team Fly during those two years off. AAU is different than high school basketball, "it focuses on the player's skill and what you can do as an individual, while also being part of a team. Madison sees more man to man and presses than a typical zone that a high school would throw out. 
His senior year, wouldn't ultimately live up to the hype. He has seen some action but only in a blow out game. Isaiah's priority was team-focused, he just wanted to win, he's happy that the team is doing well. Then his favorite memory was Stuff the Stables, "we knew that Beaverton wasn't that good, and we knew we shouldn't have lost time, and there was just a bunch of people there and a lot of hype behind it." 
#24 Andrew Ingalls: Andrew Ingalls has been playing basketball for his whole life. "Growing up I was the slow, chubby guy on the court. I had fun my whole life… it was my favorite sport by far." He grew up watching the blazers and still watches the Balzers to this day. He grew up with the Southridge program and reppin' the Skyhawks and of course, that's where he went to go play ball his freshman year. "It was definitely fun taking busses to games and getting out early… I had a lot of friends on my team."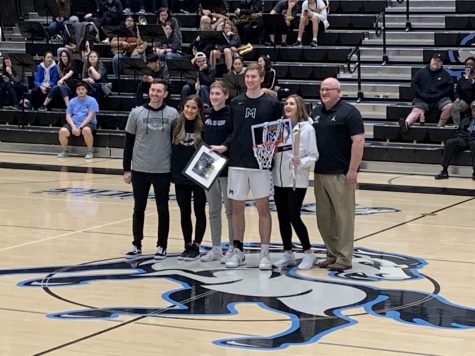 When Ingalls would then later transfer to Mountainside, he had no idea what to expect as well as the other 900 or so kids coming here. "Later I knew that I made the right choice in coming here, all of my friends were here, I made new friends on the basketball team…it's been a lot of fun starting this program from the ground up." In Ingalls' final game he would notch a double-double with 14 points and 11 rebounds along with 3 blocks, in his final regular-season game. "It was definitely a cool experience… lots of emotion, and we all had to put that behind and play basketball." Then reflecting on his senior year, he picked out Stuff the Stables as his favorite game of the year. "It was so much fun playing in that game, we played hard as a team."
#30 Bennett Geibels: Bennett Geibels journey through high school hoops is unlike any other.  He started out in Vancouver, Washington. Bennett started out on the JV basketball team with occasional swings up to Varsity at Skyview High School. Which was one of the bigger schools holding around 2,000 students. When asked about the biggest differences Geibels replied "In Washington, there's a shot clock, that's a big change."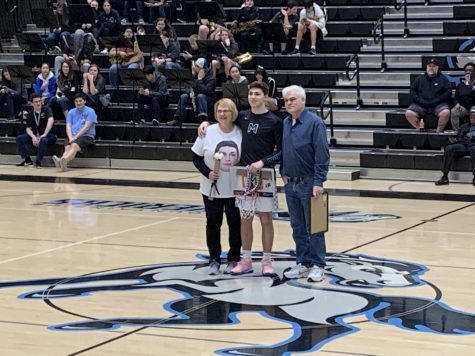 Then he had to move 24 miles to the Beaverton High School, for his Sophomore and Junior year.  He met his coach Mr. Vancil. "Coach Vancill was really nice to me, and he gave me all these things and promised all these things." Bennett played two years for the Varsity squad dawning the #2 and the #11 jersey. He made it a goal of his to be able to knock down his free throws at the charity stripe, and be a lights out shooter who can shoot the 'peel'. His experience there was challenging, he had to guard the Metro League Player of the Year, Jake Estep. A 6'5, 240-pound guy who could do it all. He was a guy that helped a younger Bennett get better. Bennett only being 6'0 and 170 lbs going up against Estep. Marking the taller and stronger Estep helped Bennett become the playmaker he is today.
The Geibel family moved again and this time to the Mountainside area. He was in a brand new school all over again. His former teammates and coach questioned his decision to switch to the brand new high school that had only won one metro league game the year before.
"The events that have transpired go to show that my decision was really for the better." The boys' team currently sits at eighth in the state and second in the Metro.  "It feels good to know that I made the right choice."  
Coach Hewitt: The Seniors have established culture for Mountainside to build on in the future. "They are role models for younger players and for people in the school, I'm more proud of them that, than our record, (20-4)  but the record comes when you have good people doing good things." Coach Hewitt would like to thank his senior class for three fun years, there've been good times and then there has been bad times. "You might remember some of the wins or the losses…You'll remember the laughs in the locker room or fighting through adversity."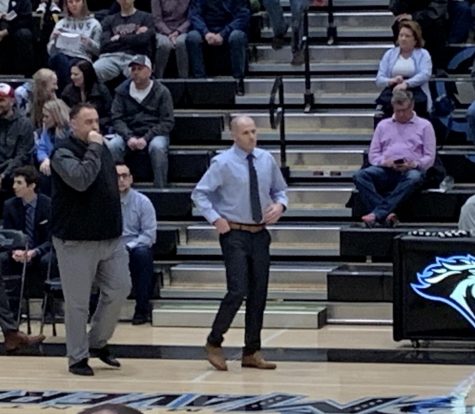 Their mark will definitely be remembered going forward, not only as being the first batch of senior boys basketball players but also for being the people who set the bar high for others. "I'll probably remember the stuff the stables game." Hewitt said "Everyone on the team seemed to make a big play or a big contribution at some point in the game, the Crowd was fantastic… I'll also probably remember them making me go viral for a little bit." Hewitt chuckled "If it was earlier in the year I may have put them on the line." 
Thank you to these Seniors who helped grow and develop the Mountainside boys program. We wouldn't have the opportunity of being in the playoffs and going to the Chiles Center this year for your other senior classmates. Thank you for helping the other younger Mavericks, so they can make more memories for more classes to come. The younger Mavs have big shoes to fill, but an excellent example to follow. Your guidance and dedication has left Mountainside in a great place for years to come. All of Mountainside and the Mountainside community are grateful for such an amazing first senior class.
Thank You Seniors.
Updated October 5, 2020: This is an edited version of the originally published article. It previously contained one sided and not fully researched information which is now removed.