Kentucky Fried Turkey?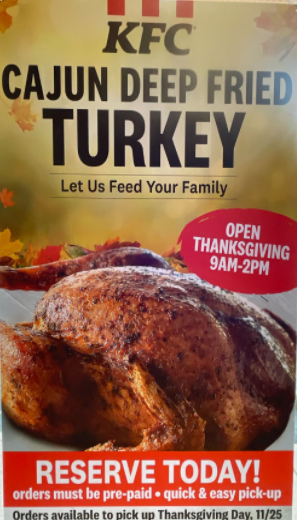 Note: This article was written in 2021, and we're not sure if this is still accurate to the 2022 Thanksgiving season.
Hosting Thanksgiving dinner isn't exactly as easy as pie, but no matter your Thanksgiving tradition- KFC's Cajun Deep Fried turkey makes feeding family and friends convenient and delicious.
Last week, Sherwood KFC announced it's new Thanksgiving Menu, advertising the Cajun Deep Fried Turkey as "tender, juicy, and deliciously prepared in our classic KFC style."
Located just 10 minutes from Mountainside, Sherwood is one of the exclusive participating restaurants in the nation. As it stands they are serving only 30 turkeys, so first come first served. 
In light of making Thanksgiving stress-free, the pre-ordering process is also simple. Just pre-order your turkey(s) in-store and pick it up on Thanksgiving day, Thursday, November 25th. 
In addition, the store manager for this location will also provide a free family cake (chocolate or lemon) to the readers of the school newspaper who also order a turkey.  
You can find the Cajun Deep Fried Turkey at this location in a variety of feasts as well. Read on for more information.
Cajun Deep Fried Turkey: 
14-16 pound turkey, feeds 12 people. 
             $59.99 turkey only
Holiday Meal: Feeds a total of 12 people
1 Cajun Deep Fried Turkey
1 Family Size Mashed Potatoes (100 oz)
1 Family Size Gravy (48 oz)
1 Family Size Coleslaw (100 oz)
1 Dozen Fluffy, Buttermilk Biscuits
$79.99 entire meal
Holiday Feast: Feeds a total of 16 people
1 Cajun Deep Fried Turkey
1 Family Size Mashed Potatoes (100 oz)
1 Family Size Gravy (48 oz)
1 Family Size Mac & Cheese (100 oz)
1 Family Size Corn Kernels (100 oz)
1 Dozen Fluffy, Buttermilk Biscuits
1 Family Size Chocolate or Lemon Cake (feeds 6-8)
*Suggest Coleslaw*
$99.99 entire meal
Additional Store Information:
Sherwood KFC Address: 15971 SW Tualatin-Sherwood Rd, Sherwood, OR 97140
Health and Safety: Masks are required, staff required to disinfect
Thanksgiving Hours: 9am – 2pm
Phone Number: 503.625.5787
Citations: 
KFC : Fried Chicken, Extra Crispy Chicken, Bucket of Chicken & More in Sherwood, OR. (2021). Retrieved November 4, 2021, from Kfc.com website: https://locations.kfc.com/or/sherwood/15971-sw-tualatin-sherwood-road