Ethan Martin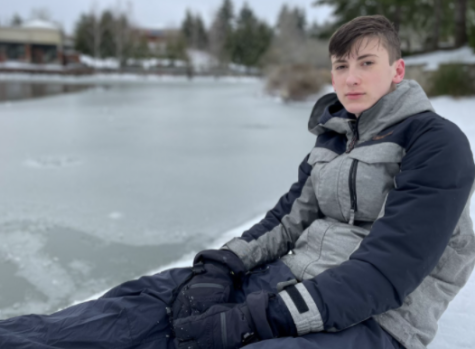 Like many students, Ethan Martin lost a lot of the social aspects of high school due to CDL. He hadn't even entered the
building until earlier this year. "It was really big, and kind of overwhelming," Martin recalled. 
Now, as a sophomore, Martin can be spotted striding the hallways from class to class. His 5'10" stature makes him easily identifiable, but what you can't tell about Martin just by looking at him, is that he is a traucer. 
Originally derived from doing tricks on monkey bars, Martin attended his first parkour class when he turned nine years old. Since then, he has learned how to do all sorts of stunts, always striving to push himself. 
Currently he is working, "to get comfortable with freerunning outside on the concrete." And eventually hopes to flip from recreational parkour to assisting a class or two.  
Martin also enjoys carving the snowy mountains on his snowboard. "During the winter, my dad and I buy a season pass at Timberline," he said. "It's always fun."
Along with staying physically active, Martin is also an active learner. He has always gravitated toward science. And has greatly enjoyed chemistry with Mr. Winters, "he's always blowing stuff up," Martin chuckled.
If he could talk to his freshman self, he would advise, "to not stress as much over grades." 
Martin also enjoys reading. He explains that when he finds an interesting book, he "will just read it straight." Recently doing so for his favorite, the "Unwind" series by Neil Shusterman. "It's a mix of sci-fi and dystopian," he explained. "I [recommend it]."
In many aspects of his life, Martin is the type of person to pursue his interests without limitations. "If you want to do something, try it out. If you're afraid you might not like it, you'll find out," he urged. "Don't be afraid to try new things."
Before his graduation in 2024, Martin hopes to gain real-life work experience, maintain his GPA, and run for the track team. If you're anything like Martin you understand that not everything comes easy, but you should always give it your all.