Signing Day
February 5th, 2020 will go down in school history. On this day, eight members of our first graduating class took the next step with their athletic, but more importantly, their academic careers. For years, these individuals participated and excelled in their respective sports and subsequently, left a famed legacy here at Mountainside.
Bethany Newton received Metro League awards for her impressive season on defense on the 2nd team. Newton decided to sign to the University of Northern Colorado in Greeley, CO.
"During my time playing here, I learned to adapt because our team was young so we had to grow up fast. I'll think back to this when I'm playing anywhere and I'll definitely keep it in mind when I'm a freshman playing against seniors next year because it's no excuse for the way I play. I really want to thank all the team who helped me come to my decision but also for supporting me and each other hardships during my time here. I also wanted to thank the fans who came out to games and supported even when the odds were stacked against us. Having a school that was always cheering for you was nice and I can't imagine what the team would be like without all the support."
Sidney signed to New Mexico State University in Las Cruces, NM.
"I'm super thankful for the opportunity to have even played for Mountainside, it meant a lot to my family and I. It's going to be super exciting to play in college with new teammates and also learning a new style of play. I also want to say that I'm thrilled for the chance at a new perspective of doing what I love at a higher level"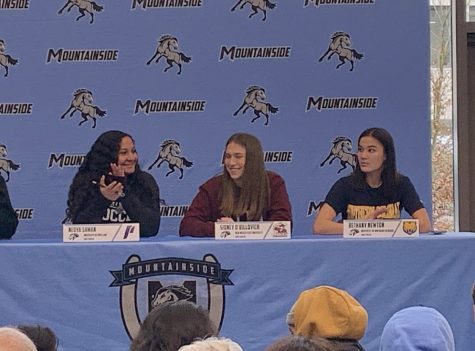 Nedya plans to stay local and signed to join the University of Portland. Sawan also received national recognition as Gatorade Player of the Year in 2019.
"I'm very thankful for the opportunity to be a part of both the first varsity soccer team and first graduating class here. I feel really lucky to have been surrounded by such a supportive community of teammates, coaches and teachers who all have made these last three years memorable."
During the fall season both Sidney and Nedya were recognized as All-Metro and All-State first team members and the three led their team to 2nd in state.
Also during the fall, Izzi Szulczewski shined during her volleyball season where she led the team to 4th place. On signing day, she signed to become a Beaver at Oregon State University and continue her volleyball career.
"Signing was a big relief and it was great to just get it all figured out and I feel very fortunate to not have to stress about college now. I'm excited to start the next chapter of volleyball for me because the sport means a lot to me and I really wanted to thank everybody for supporting me along the way."
Winter sports also had an athlete sign, Cameron Brink, who also plans to play in the Pac-12 like fellow signee Szulczewski. Brink signed to continue her women's basketball career in Cardinal Red at Stanford University in Palo Alto, CA.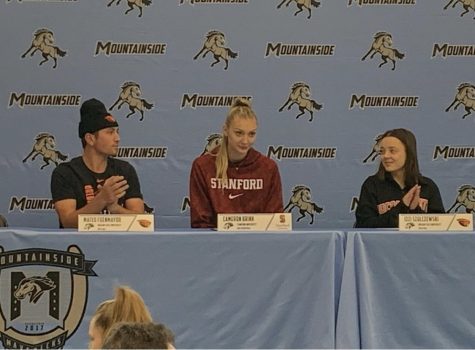 "I can't express how thankful my family and I are for Mountainside and their warm, welcoming community. I also feel lucky to be in the historic first graduating class here. I can't wait to start the next chapter of my life at Stanford and continue my basketball career there."
During high school, Cameron received All-Metro and All-State First team all four years as well as two Gatorade Player of the Year awards. On top of winning Metro and State Player of the Year, Brink received the Gatorade Player of the Year award in 2019. More impressively, she won two gold medals with the US National Team and is now a McDonald's All American.
Two of our school's softball team members also signed. In a similar fashion, Kacie Shmidt decided to take her talents and signed locally to the Oregon Institute of Technology in Klamath Falls.
"I'm very grateful to the Mountainside community, especially my coaches, teammates, friends and other athletes for supporting me along this journey. I am honored to be a part of the first ever varsity softball team in Mountainside history. I'm excited to begin this new episode of my life and softball career and I can't wait to bond with my new team while also playing against some old teammates."
Cassidy Kachnik plays softball signed and plans to also continue her academics at the Academy of Arts University in San Francisco, CA. Schmidt and Kachnik received Metro League honors on 2nd team and helped the team to their first playoff berth and to the 2nd round.
Also joining Szulczewski is Mateo Fuenmayor of Boy's Golf. He signed at the Oregon State University after an impressive career in high school. During that time, he received several First Team All-League and All-State after receiving Metro League player of the year as just a sophomore.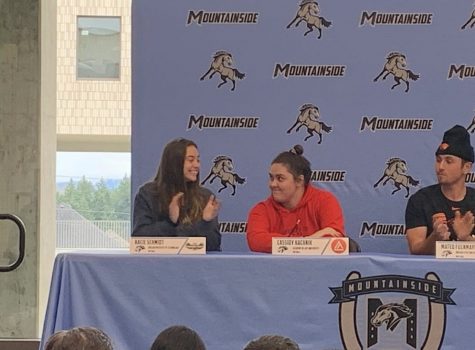 "My parents, the rest of my family and I are beyond thankful for my last three years at Mountainside. Personally, I am grateful for all my teachers and coaches who have made me the young man I am today as well as my classmates and friends I've made the last three years who have made the experience here memorable. I look forward to beginning this new journey and just doing what I love on an even bigger stage . Becoming a Beaver is exciting but I'll always remember my beginnings as a Maverick."
Fuenmayor looks forward to this spring season, going into it ranked the top golfer in Oregon.
We are so proud of our athletes and we know they will keep making us proud. Good luck in college Mavs!