Self-Care Kits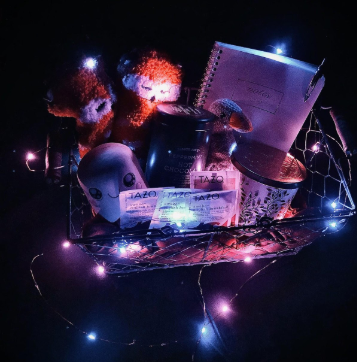 The week of finals that recently passed brought a week of high-stress, which makes taking care of yourself now all the more important. The main concern with finals being that "all your classes happening are testing in one week. You're having a test every day," said Kenzy (9th grade). This is a sentiment that had been felt widely throughout the Mountainside student population. Finding ways to come down from that extremely taxing week is important to prevent burn-out and have a successful start to the new semester. A self-care kit can be a quick go-to for a guaranteed way to destress. 
The idea behind self-care kits is similar to care packages like the ones parents might give their children in college. A self-care kit is essentially a container (anything from a plastic bag to a treasure chest) filled with objects that help relaxation. They give a feeling of home and comfort when it might be most needed.
Objects typically work best when the user not only enjoys them, but the objects demand the focus of one or more of the five senses (sight, hearing, smell, taste, and touch). The idea behind doing something that involves the attention of the senses is that it then allows the person using it to shift their focus and allow the other senses a break, even if it is just temporarily.
Not only are these a way to take care of yourself, but they can also be thoughtful gifts for friends, family, or teachers. Gifting them during holidays, birthdays, or even just to check-in on someone can show that you care. 
The following can be especially good gifts since a quality kit can be made with them for under 20 dollars. 
Stuffed animals

Candles

Microwaveable popcorn

Blankets

Face masks

Books/magazines

Journal/coloring books

Candy (Jolly Ranchers, Hershey bars, etc)

Fuzzy socks

Music

Bath bomb
A sample kit might look like: 
Bag of Hersheys Kisses  (Dollar Tree, $1)

Bag of Jolly Ranchers (Dollar Tree, $1)

Face Mask Set (

Amazon

, $6.99)

Designs coloring book (

Amazon

, $3.58)

Colored pencils (Dollar Tree, $1)

Fuzzy Socks (

Amazon

, $3.99)

Microwave popcorn (Dollar Tree, $1)
This self-care kit comes to a total of $18.56 and it would be simple to add headphones or a go-to playlist to add to the relaxation.
However, general items aren't always best for the variety of people who make up Mountainside.  Mr. Piros, Lang and Lit teacher, would want a "big box with all [his] meals for the entire week." Kenzy (9th grade) felt that "caffeine" would be something that kept her going. And while "time" isn't available to Olivia (11th grade), something to aid the sleep process, "sleep medication", would be best after all the crammed in studying.
At the end of finals week, it's no question that everybody was feeling exhausted. Putting together a comforting basket to pull relaxation from is a lovely way to keep yourself from reaching a burnout point as the new semester begins. As Mr. Piros said, "if you feel good then you're in a good place to be more productive," which is just how the start to a new semester should go.