Oscars Best Dressed 2020
The Oscars. The perfect destination for well-known actors and celebrities to show off their wealth through fashion. And The Peak has chosen our top ten favorite looks!
Are high schoolers in any way qualified to review high fashion? Probably not.
Nonetheless, this is all based on fun personal insight and general fashion perception.
Let's get into it, shall we!
#1: Spike Lee in Kobe Custom Gucci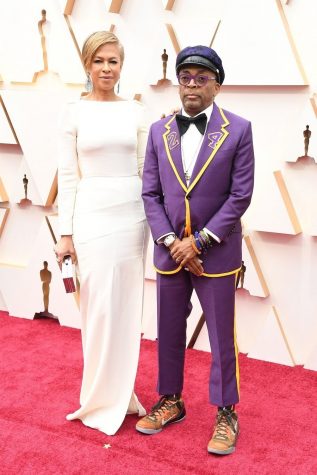 This outfit dedicated to Kobe Bryant was not only super fashionable, but it also pulled at our heartstrings. Famous director Spike Lee made it his goal to make a tribute to the famous basketball player, Kobe Bryant, due to his recent passing away. The sentiment of this look was just beautiful and he also strayed away from the usual black and white suit, which made him stand out significantly on the carpet.  We thought it was most fit to place this look at number one to keep the legacy of our favorite basketball player living on. May the Black Mamba stay forever in our hearts.
#2: Janelle Monae in Ralph Lauren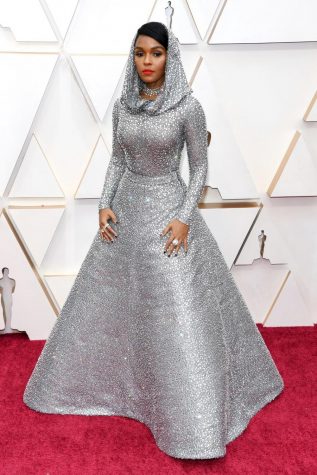 When high-end fashion meets Area 51. This futuristic aesthetic caught the attention of everyone on the red carpet with its shining sparkles and smooth design from Ralph Lauren. On top of that, Janelle Monae absolutely killed this look with her makeup and styled hoodie over her head. We hope to see more of these futuristic and alienesque designs in the following years as well!
#3: Billy Porter in Giles Deacon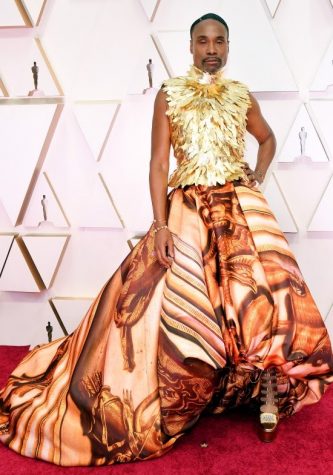 Over the top in the best way possible. I think it's safe to say not all men can rock six-inch Jimmy Choo platforms as well. If you're not familiar with Billy Porter, he is an American Broadway performer known for his Tony award-winning performance in "Kinky Boots". This man is known to GO OFF with his looks. He usually wears outfits with a dystopian and hunger games-esque theme and has grown a fan base to his out of the ordinary fashion. When most men decide to settle with a casual black and white suit, Billy does the exact opposite. He strives to have the most out of the box and futuristic outfits each time he steps his feet on a new red carpet. Fashion is the future as they say…
#4: Pugh Florence in Louis Vuitton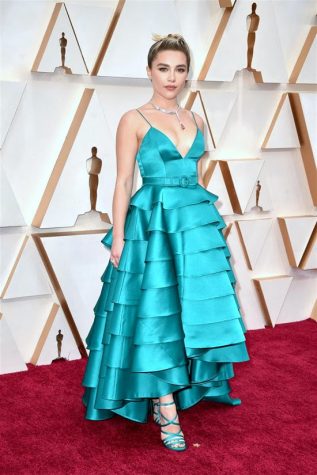 "Little Women" actress, Pugh Florence made an outstanding first impression on her first-ever Oscars attendance. She sported a turquoise Louis Vuitton dress, with matching heels to top it off. The whole ensemble of her makeup, jewelry, and hair just made the look all add up to perfection. Sea-foam blue was a color we haven't seen much on the red carpet, so she significantly stood out among the rest. Well done, Pugh!
#5: Kaitlyn Dever in Louis Vuitton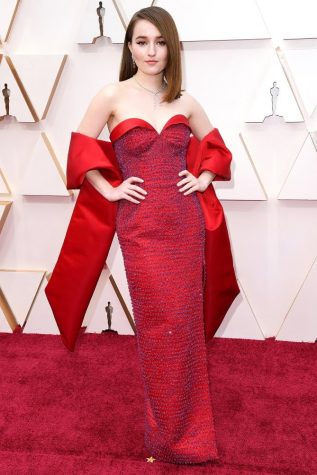 Rising actress Kaitlyn Dever arrived at the 92nd Oscars with a bold and well fitted Red Louis Vuitton look for the night, and she definitely received tons of looks. Combined with the fashionable shoulder straps and short cut hair, the result of this look gave off a rich and classy aura that kept on throughout the night. An absolute favorite! 
#6: Scarlett Johansson in Oscar de la Renta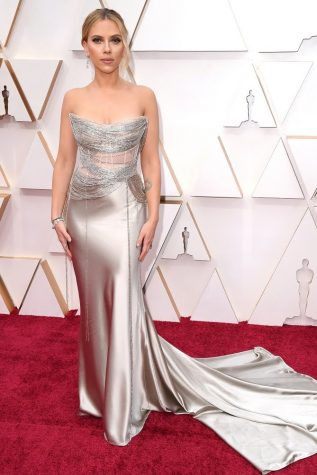 This silky and bedazzling dress worn by Scar-Jo was one of our top favorites of the night. The sparkly tinsel at the top of the dress flowing down to the silk at the bottom was a beautiful design by Oscar de la Renta, and Scarlett wore it beautifully. Her dangling earrings and fancy styled bun were a great addition to this look and added to the attraction of the whole dress.
#7: Cynthia Erivo in Custom Atelier Versace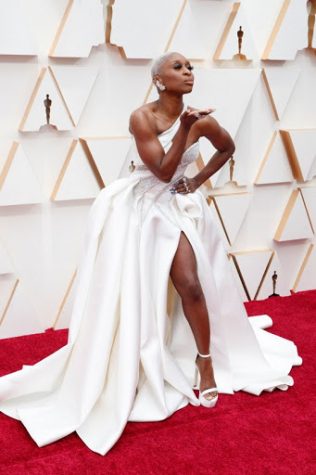 "Harriet" actress Cynthia Erivo arrived on the red carpet beholding a custom Atelier Versace white gown, with a leg opening to sport her beautiful white heels. Her angelic aura was reflected in this dress, and she looked absolutely beautiful every second on the carpet. Not to mention, her performance of her new song, "Stand Up" was so powerful, and she caught all of our hearts on this night.
#8: Margot Robbie in Chanel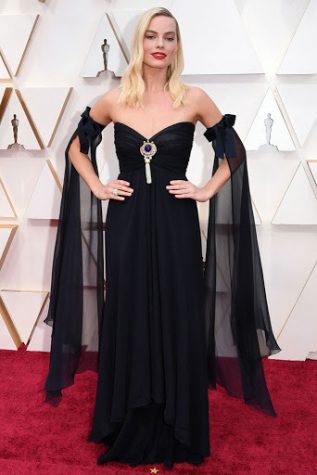 "Classy Medieval Princess," a look worn by none other than Australian actress, Margot Robbie. Robbie is known to kill it on the red carpet, and she definitely did it again this year at the Oscars. With the ensemble of the two flowy arm pieces and the Chanel bedazzled clip in the front of her dress, she had our jaws dropped when she walked on the carpet. The medium-cut styled hair with a classic red lip was a great addition to this look and definitely wowed the press.
#9: Timothée Chalamet in Prada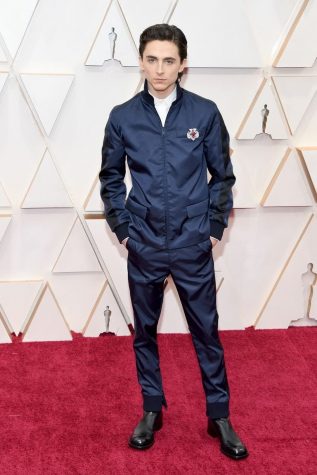 This French actor arrived at the Oscars standing out amongst the men, sporting his navy blue Prada suit and boots. Paired together with the slick back hair and the white undershirt underneath, this look definitely caught the attention of the ladies (and men, let's be honest). This sophisticated yet mildly casual look added to the actor's charm and wooed our hearts at the same time. Très stylé, Timothée!
#10: Brie Larson in "Celine" by Hedi Slimane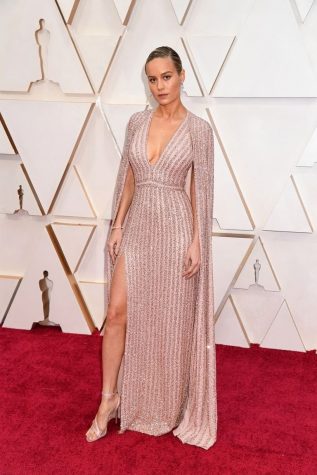 Brie Larson took a chance with this "Celine" dress by famous fashion designer Hedi Slimane and it most definitely paid off. This nude look with the open leg parting and slick back hairstyle was a sight for sore eyes on the carpet. Not to mention, she was wearing hundreds of Swarovski crystals on her dress; making her shine bright every time she strutted on the carpet. Very classy, Brie!