HBO's Euphoria: A Groundbreaking Series That Explores Love and Pain in the Lives of Teens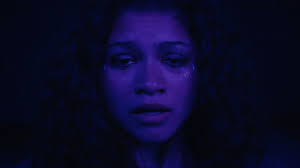 Euphoria is an unfiltered drama series that centers around the lives of explosive teens exploring expression, angst, and excess in Los Angeles.
The series is known for its controversiality and willingness to tackle real-life problems of adolescents today, ranging from drug addiction, abuse, gender identity, sexuality, rebellion, peer-pressure, belonging, and mental illnesses. It was released on June 16th of 2019.
The show is a glamorized American adaptation of a 1990's Israeli series of the same name, combined with the artistic visions of creator Sam Levinson, who integrates some of his own experiences as a former drug addict into the plot. HBO sets this show in modern-day Los Angeles at melodrama hub East Highland High School. 
Disney fan-favorite star Zendaya breaks out of her wholesome mold with her heavy role as protagonist Rue Bennett. The series centers around her character's relationship with drugs. "I know you're not allowed to say it…but drugs are kind of cool. I mean they're cool before they wreck your skin…and your life…and your family. That's when they get uncool. It's actually a very narrow window of cool," she said. Season 1's pilot opens with Bennett emerging from rehab, with no intention of staying sober.
As the season progresses, the focus zooms out to Bennett's peers, from the likes of popularity queens and football players to drug dealers.
The dialogue is an inflated version of the cliché teen gossip that has been around for countless years. The zingers and witty comebacks of the characters are a stylistic choice on the part of the writers, as it is apparent to the audience that these types of conversations are not meant to depict commonplace conversations.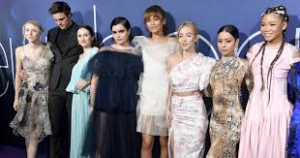 One scene that capitalizes on this is in Season 1, Episode 7. A heated catfight between sassy Maddy Perez and her friend Kat Hernandez takes place in Perez's kitchen, in which Hernandez is making snarky comments about another girl present. 
"You're being a bad friend now; you were a bad friend to me and this whole new personality is seriously unlikeable," Perez says to Hernandez.
"Why, because I won't sit and listen to you b**** and moan about your psychotic abusive boyfriend who you've literally broken up with a thousand times?!" Hernandez says.
This type of embellished exchange is painfully common among teens in the show and relatable to teens today.
Euphoria examines gritty topics through an artistic lens–the show has a pronounced focus on imagery and character perspective. Aesthetically, it's regarded as breathtaking–the set's pro makeup artist Doniella Davy adorns characters in glitter and rhinestones to create the show's trademark look. The show's scenery and backgrounds are a combination of glowing celestial colors against dark nights, setting the tone for adventure.
Many scenes are moments from Bennett's point of view while under the influence of drugs. For example, the pilot has a party montage in which the room is vertically spinning as Bennett tries to keep her balance, which illustrates her altered state.
Rue Bennett's best friend, Fezco (played by Angus Cloud) is a drug dealer who, ironically enough, wants Bennett to stop using drugs. It is made clear to the viewers that he cares deeply about her and doesn't agree with his own job. He views dealing drugs as a means to an end.
Not only does Euphoria depict drug addictions, but it also dives into the subject of sexual abuse. The most obvious example of this theme is the toxic relationship between Maddy Perez and quarterback Nate Jacobs. The show is groundbreaking in the way that it takes the stereotypical manly jock role and tweaks it enough to be vulnerable and complex.
In this case, the show's designated jock would be the 6'3 aggressive football star Nate Jacobs (played by Jacob Elordi), who uses his machismo to mask insecurity about his sexual orientation. Many viewers speculate that he is a psychopath, due to his controlling and explosive tendencies.
These tendencies are shown in Season 1, Episode 2, in which Jacobs breaks into Tyler Clarkson's (played by Lukas Gage) home and beats him unconscious, which is depicted graphically. Jacobs committed this horrific act because Clarkson allegedly was intimate with Jacobs' girlfriend Maddy Perez while she was under the influence of alcohol.
Throughout the course of the season, it is revealed to the viewer that Jacobs endured abuse from his masculinity-obsessed father Cal (played by Eric Dane) as a child. The exact type of abuse remains vague, but the consensus among viewers is that it was sexual.
This cycle of toxicity re-emerges in his passionate relationship with Maddy Perez, in which he is both physically and mentally abusive of her. Euphoria delves into the twisted intimacy that bonds an abuser and their victim in a raw manner that leaves viewers shaken up well after watching.
The show then explores gender identity with the character Jules Vaughn (played by Hunter Schafer). Vaughn is a trans girl who is trying to fit in at her new highschool, settling into the suburban lifestyle. Jules is a charming romantic with an open heart, easily catching Rue's attention. As the episodes go by, it is made clear that Rue is in love with Jules.
Whether it be because of her carefree attitude or her exhilarating spirit or her statement making fashion choices, the two seemed to instantly hit it off. Rue uses Jules as a way to keep her clean of substances. Rue sees her as a ray of hope; an inspiration. Although it was obvious to the viewer that the relationship was one-sided (considering Jules was mainly interested in men) it didn't stop Rue from trying.
The graphic and alluring cinematography of Euphoria combined with the actors' all-too-raw portrayal of modern adolescent pain won its lead actress Zendaya 3 major awards. These were "Primetime Emmy Award for Outstanding Lead Actress in a Drama Series" in 2020, "People's Choice Award for the Drama TV Star of the Year" in 2019, and "Satellite Award for Best Actress – Television Series Drama" in 2020.
You can watch Euphoria on streaming services Hulu and Amazon Prime. (This series is rated TV-MA and contains provocative subject matter.)