Michael Allen Harrison: Local Pianist and Role Model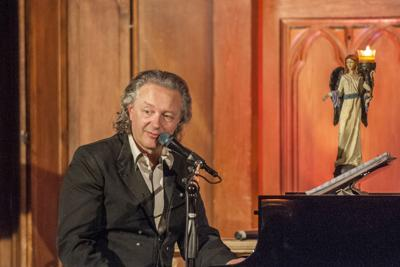 Michael Allen Harrison is a classical piano composer and artist born right here in Portland, Oregon. He was actually quite shy as a child and started playing the piano at the age of six. Michael attended school at Parkrose High School in Portland, Oregon and later released his first album Tea Court Interlude in 1986. He has since released nearly fifty albums, including his hit collections Circle of Influence and Coming of Age, as well as many collaborations with local vocalist Julianne Johnson.
In fact, Michael Allen Harrison, a Jewish man, and Julianne Johnson, an African American woman, have had a lifelong friendship that would have seemed unlikely back in the day when they first met back in the 1970s. All thanks to their fathers working together at a local carpet store, the two have grown up together creating and sharing music. The friends have released a few collaborative albums together including Cheek to Cheek as well as My Romance. Michael's soft piano accompaniments provide a contrast to Julianne's strong vocals, making their music together all the more captivating.
While his musical career is still ongoing, he has already had a number of notable performances. For instance, in 1999 he was invited to play his song "Remembrance" in front of the United Nations in honor of Israel marking its 50th anniversary of independence. He has also played for then-president Bill Clinton and even composed a new piece titled "Ocean of Wisdom" specifically for a performance in front of the 14th Dalai Lama. This goes to show that his music is loved and adored by all.
Also notable, some of his music has actually been played in space. This is because NASA has granted two of his albums an Orbiting Certificate for airplay. Michael's 1992 album titled, Emotional Connection was played in the space shuttle ENDEAVOR while his 1994 album Circle of Influence was played in the shuttle DISCOVERY.
Additionally, Michael Allen Harrison's annual "Christmas at The Old Church" concert in Portland is a program that he has been doing now for 25 years. Each year, he puts on roughly 25 shows over the course a few weeks in December. The program mixes peaceful piano covers of traditional Christmas hymns with fun, upbeat, songs for the whole family. Among every show, there are performances of "The Little Drummer Boy" as well as a musical rendition of the classic "'Twas The Night Before Christmas." Michael uses his "Christmas at The Old Church " concert to not only promote his own music but also to highlight the young talent of others, sometimes including his own children.
He is also known for his "Ten Grands" concert, where he and nine other pianists join together, putting on a show incorporating ten grand pianos at the same time. This show has normally been held at the Arlene Schnitzer concert hall in Portland, however, in the last few years, it's expanded to Seattle as well. The Seattle show highlights a special "Ten Grands for Kids" matinee where multiple young pianists join on stage to play with the professionals.
By looking at Michael's various involvements, it can be seen that he is quite supportive of young inspiring artists. In addition to creating and releasing music, he is known for his involvement with the Snowman Foundation, a non-profit organization he founded in order to further support and encourage music education in schools. Unfortunately, with frequent budget cuts in public education, music is one of the first things to be cut. Michael recognized this and felt inspired to make a difference. With the campaign "Play-It Forward" the organization provides instruments and musical instruction to young children who otherwise may not have access to it. As a musician himself, Micahel understands the importance of music and the joy, healing, and peace it can bring others. Since its founding in 2000, the organization has raised over three million dollars.
Overall, Michael Allen Harrison is a talented pianist and composer, who has not only makes a difference by creating and sharing his music, but also by encouraging other young children to find their passion.