BROCKHAMPTON: "America's Favorite Boy Band" Celebrates Diversity in All Its Forms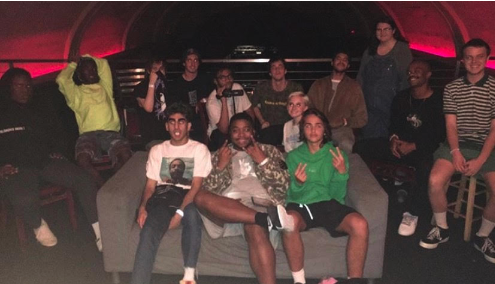 BROCKHAMPTON, named after the street their founder Kevin Abstract grew up on, is a well-known alternative hip-hop band that currently has 12 members: Kevin Abstract, Matt Champion, "bearface.", JOBA, Romil Hemnani, Dom McLennon, Ashlan Grey, Jabari Manwa, Kiko Merley, Henock Sileshi, Jon Nunes, Merlyn Wood, and Robert Ontenient. They all originate from various cultural backgrounds.
Humble Beginnings
Back in 2010, then-14-year-old Kevin Abstract posted the question "Anyone wanna make a band?" on a Kanye West fan forum. The response he got was quick and enthusiastic. Abstract quickly went from an aspiring rapper to a developing musician with a newfound sense of community.
Diverse Backgrounds
The immense variety of BROCKHAMPTON's most influential members is evident when looking at their individual identities.  
Kevin Abstract, the founder of BROCKHAMPTON, was born in Corpus Christi, Texas, as Clifford Ian Fernando Simpson to a Black Mormon family. As one can imagine, being a homosexual man of color in the southern state of Texas brought many challenges to Abstract's adolescent years, and on top of that, his family's Mormon convictions did not create an accepting atmosphere in his home. In the band's studio album "iridescence" (released on September 21st, 2018) Abstract opens up about his pain in the song "WEIGHT", with raw and explicit lyrics detailing his intimate struggles as a gay man. The full album "iridescence" is focused on the band members' deep emotions.
Abstract and JOBA (born Russell Boring) attended the same Texas high school, Woodlands High. However, that is the only conditional similarity between them: JOBA is white and came from a typical, non-religious middle class family. 
JOBA battles Dissociative Identity Disorder (DID) and Bipolar Disorder. The pain created by these mental conditions are the source of his artistic works. He is a source of hope for listeners suffering from mental health problems–in that way, he is a musical hero. In their ballad "SAN MARCOS", he gets personal, with the lyric "Suicidal thoughts, but I know I won't do it".
Belfast, United Kingdom is the hometown of singer and songwriter "bearface." (born Ciarán McDonald). "bearface." writes and performs music about challenges in romance. He opens up about this anguish in the song "FACE" released in 2019, with the hook "You keep leaving when I need you most".
 Merlyn Wood originates from Accra, Ghana, and he played saxophone as a child. Wood used music to express the fears and thrills that came along with dropping out of college to pursue his lyrical dreams. He brings a dose of sunny Ghanaian flavor to BROCKHAMPTON's music. A wonderful example of this cultural infusion is the song "Boy Bye" from the band's album "Ginger" in 2019.
DJ Romil Hemnani was born in South Windsor, Connecticut, and his ethnic background is Pakistani. Connecticut is a mostly white community, and due to Hemnani's differing culture, he dealt with older kids making fun of him for his thick eyebrows.
He humorously tweeted in December of 2017 "when i was in 6th grade, all the 8th graders would make fun of my eyebrows but look at me now b****. good luck filling in your eyebrows like mine these are all natural". Hemnani's disc jockey talents are displayed in songs such as "Junky" in 2017.
Not only is BROCKHAMPTON full of ethnic and cultural diversity, but it's also plentiful regarding diversity in the members' emotional, personal struggles.
Brotherhood
The use of the Internet was greatly beneficial to the band in the time of their blossoming, because it allowed Kevin Abstract to reach people all around the world. The contrast in the members' ethnic, cultural, and locational origins would prove to be a focal point of BROCKHAMPTON's magnetism. 
Despite all the different, diverse backgrounds culturally and emotionally, they come together to make music that reaches millions. With over 8 million monthly listeners on Spotify,  the band has proved that working in a big group can turn out to be successful. It has also provided the members with friendships that will last a lifetime. "We want the brotherhood to become tighter with every album," Abstract said last year, in an interview with NME. By watching interviews the band has done over the years, you can see just how close and connected they all really are. 
Channeling Pain Into Passion, and Passion into Success 
As soon as 2015, BROCKHAMPTON was recognized by the public as a famous band. They released their debut mixtape "ALL-AMERICAN TRASH" on March 24th, 2016. Their skyrocket to success is largely credited to the diversity that the band not only represents, but celebrates.  
This diversity–ethnic, racial, emotional, cultural, and sexual–speaks to an audience in a uniquely profound way that touches the hearts of many. Pronounced diversity in bands is especially effective because these bands appeal to a broader audience. Because of this, people can relate to specific members of the group. This has shown to be a key factor of the band's enormous appeal to the public. 
BROCKHAMPTON proves that the courage and enthusiasm it takes to come together, unite as a team, and demonstrate a positive attitude towards diversity produces an extraordinary outcome: success, authenticity, and profundity. The band is a product of progressive societal development. Through their artistic ambitions and musical expression, BROCKHAMPTON has demonstrated to the public that diversity in all its forms should be recognized and appreciated.
You can listen to BROCKHAMPTON's latest album "Ginger" (2019) on spotify, apple music and youtube.