Mountainside Theatre Presents: The Musical Comedy Murders of 1940
It has spectacular humor, gasp-worthy drama, a meet-cute romance, secret passageways and ruthless murder. It's "The Musical Comedy Murders of 1940". The annual fall play performed by the Mountainside Theatre department right here in our school is right around the corner! Opening Nov. 4th, you'd be robbed to have missed this production, or better yet, murdered…(for legal reasons that is a joke, cue the laughter track here).
Theatre director, Kevin Goff, thinks this play truly lives up to its name. "The Musical Comedy Murders of 1940 is a 'comedic who-dunnit' murder mystery that takes place in the mid-40's. It's fast, funny, there's lots of hijinx, there's like- three different people who-dunnit, the audience is just always kinda going back and forth."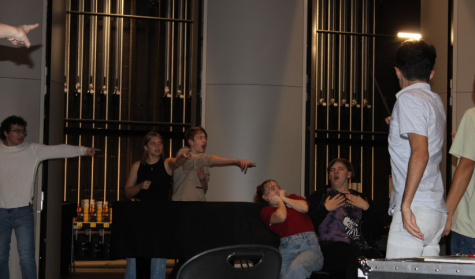 Why, you may ask, would a high-school theatre director choose a play about murder with three different killers? Well,
according to Goff, "the community at Mountainside has definitely enjoyed comedic things, it also kinda has this spooky-kind of flavor for this time of the year, and it's just fun, who doesn't like a fun play?"
The Musical Comedy Murders of 1940 has been a show long anticipated by Goff and has clearly been in the waiting for a while now, which only adds to the excitement for this production. "It's a play I wanted to do for awhile, and it's just kinda one of those shows that a lot of high-schools do. It's fun, so it's one of those ones that I have been looking forward to doing for a few years."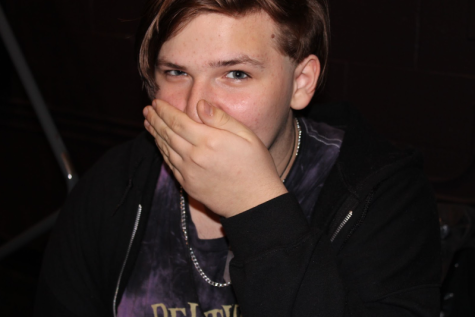 The potential of this show is strong, but what makes it even stronger is the raw talent of this remarkable high-school cast. One of which is sophomore Tyler Douglas. "I play Roger Hopewell. Roger is a flamboyant piano player who is also the composer of the music in the new musical comedy. He's very passionate about his work, and has a couple other tricks up his sleeve." 
Douglas portrays Hopewell exceptionally well and embodies the character in such a fun, unique way that is so entertaining to watch. If they could tell their character anything, Douglas would tell Hopewell, "trust your gut. If you have any concern or impulsive thoughts DON'T IGNORE IT" which only leaves us with the ominous feeling of what is in store for Mr. Hopewell.  
All actors know that one of the most important aspects of putting together a good production is having a good cast, not just in individual talent but in overall chemistry and how they work together, both onstage and backstage. According to Douglas, this will not be a worry for the cast of The Musical Comedy Murders of 1940. "This has to be the best cast I've ever worked with in the theatre department so far. Everyone is so talented and brings so much to the cast. The experience has been absolutely incredible. The rehearsal process has been so fun and everyone is such a joy to work with."
This production of The Musical Comedy Murders of 1940 will leave you with your jaw on the floor by the time it's over, not just because of the chaotic and shocking plot-twists but because of the genuine talent of each and every member of the cast. You only have six chances to catch this show, so make sure to buy your tickets soon! The show dates are Nov. 4th-5th and Nov. 10th-12th. Don't miss it!