Clouds: An Emotional Roller Coaster With a Few Too Many Bumps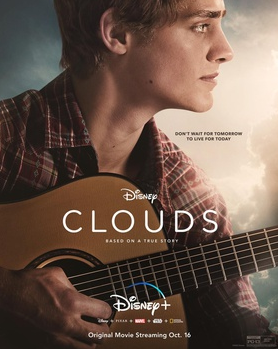 Release day: October 16, 2020
Premiered on Disney Plus 
Directed by Justin Baldoni 
Running time 2hr and 1min 
Rated: PG-13 
Cast: 
Fin Argus ……………………………………………Zach Sobiech
Neve Campbell …………………………………… Laura Sobiech 
Sabrina Carpenter..………………………………Sammy Brown 
Madison Iseman …………..………………………Amy Adamle 
Tom Everett Scott …………………………………Rob Sobiech 
Lil Rey Howery..…………..……………………………Mr. Weaver 
Summer H. Howell…………………………………….Grace 
Vivien Endicott Douglas……………………………….Ali
"You have one life to live, what are you going to do with it?" The new Disney+ original movie, Clouds poses this very important question. 
Clouds follow the true story of the late songwriter/musician Zach Sobiech and how his hit song "Clouds" came to be. Zach was diagnosed with osteosarcoma when he was 14. At the age of 17, he was told that his cancer was terminal and he would die within the next year. He was posed with the question of how he would live out the rest of his life. After learning about his new fate, he decided to follow his dream of producing his own song, "Clouds". It proceeded to go viral and reach over 3 million views by the time Zach had passed. As of 2020, "Clouds" has reached number 1 on iTunes multiple times, most recently following the release of the movie. 
Clouds is a true story that will tug on your heart making it almost impossible to not feel changed after watching. It is emotional and heartfelt yet has many moments sprinkled in that will make you laugh. Zach, played by Finn Argus, was able to step back and take a close look at what was most important in his life. We, especially as high schoolers, can grab a major take away from this: we aren't promised tomorrow, in fact, most of us don't know how long we are promised. We are reminded to make the most of our one precious life, do the things we love, and spend time with the important people in our lives. We're reminded that life is too short to have regrets and, instead, we must live it to the fullest and get as many amazing experiences as possible. 
The whole cast did an amazing job, so much so that the story came to life. At times you will forget you're watching an actual movie, and feel like you're seeing the real story unveil in front of your eyes. The emotion each character individually portrayed felt real rather than just acting. At the end of the movie, we see videos of real people like we do after most movies like this. Doing this adds more emotion and lets you see the reality and compare it to the movie. 
On the other hand, certain parts of the movie felt forced. Given the movie's goal of making you as emotional as possible, it's not surprising that there are lots of dramatic or emotional scenes. That isn't a bad thing either if they help to achieve the goal of the movie. They don't even all have to add to the plot. The problem arises when they start to take away from the movie. Certain parts of Clouds do make this mistake. Trying to fit an entire year into 2 hours isn't something that's easy to do of course, even more so when you're trying to add as much detail as possible. Clouds' attempt at this isn't 100% successful. Certain parts of the movie end up making it feel like we're following a different story for each of Zach's relationships rather than Zach along with his family and friends as a whole. 
Overall Clouds is a rather good movie. It's not meant to be a super-intelligent Shakespearean tragedy to dissect every second of. Its goal was to be quick and easy to digest drama that will also bring attention to the disease that ultimately took Zach's life. If you like heartwarming (or in this case heartbreaking) movies or films that are based on true stories this would definitely be a movie you would want to consider watching.