"Songbird": A Chillingly Realistic Dystopian Romance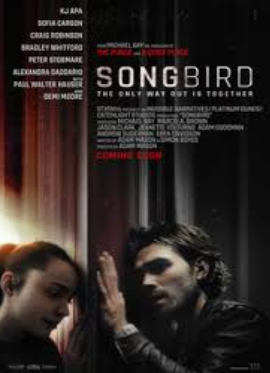 Cast:
Sofia Carson……………………………Sara
KJ Apa……………………………………Nico
Jenna Ortega..………………………………Izzy
Demi Moore…………..………………………Piper Griffin
Alexandra Daddario……………………………TBA
Bradley Whitford…………………………………Mr. Griffin 
Paul Walter Hauser…………..…………………………Max
2020 has been a rollercoaster, much like a movie with unexpected twists and turns. That's exactly how horror-specialist director Adam Mason got the inspiration for his new movie. 
Songbird brings the horrors of this pandemic to life but on a larger scale. Ever since COVID-19 happened people have been buzzing about how this whole year is just like a movie.
"Songbird", the first high-profile film project to start shooting during the pandemic, is a movie about the Coronavirus. This movie takes place in Los Angeles, California in 2024, where COVID-19 has mutated to COVID-23. In this frightening dystopian plot, the pandemic is now even more deadly. All infected Americans are forced out of their homes and into brutal quarantine camps. "New research shows that the virus attacks brain tissue," a robotic voice says in the movie's trailer.
It is a PG-13 Science Fiction Thriller/Drama based on the COVID-19 pandemic. It is set to release on December 11th of 2020 in the United States, available for at-home watching. The cast features A-list actors, consisting of KJ Apa, Sofia Carson, Jenna Ortega, Alexandra Daddario, and Demi Moore, and produced by Michael Bay.
"Songbird" will most likely receive high praise due to this star-studded cast. Starring as Nico is KJ Apa, who is originally from Auckland, New Zealand. He is well known for his role as Archie Andrews on CW's "Riverdale".
Sofia Carson portrays his love interest, Sara. Carson, a Florida native of Colombian descent, rose to prominence in her role as Evie in Disney's "Descendants".
Hollywood-famous Demi Moore plays Piper Griffin, "a matriarch who will stop at nothing to protect her family and maintain her way of life."
Alexandra Daddario's role is yet to be revealed to the public (TBA, or "to be announced"). This model/actress is known for her beauty as well as her role as Annabeth Chase in Disney's "Percy Jackson" trilogy.
In the film, Apa and Carson's characters (Nico and Sara) become involved in a romantic relationship through the internet. However, due to the drastic quarantine measures enforced by the government, they are unable to meet in person.
The government has implemented thermal scans that detect if someone contracted the virus or not. If the test comes out as positive, they stay in their house until armed guards arrive, and if they don't, they will be shot on scene.
The protagonist, Nico, is a motorcycle courier that is immune to COVID-23. He must race against the clock to save Sara, an artist, from the quarantine camp. Amidst all the chaos, Nico finds hope and love within his relationship with Sara. The character is determined to do whatever it takes to save her.
The film explores universal fears surrounding the pandemic and how it will affect our future. The realistic answers to common questions regarding the functionality of finance, relationships, travel, and quality of life in COVID-19 circumstances are blurred in this dystopian setting.
Once released, it can be viewed on Amazon Prime Video.
Watch the trailer here: